Software

Email with questions:

What is Rhino ?
3-D NURBS curve, surface, and solid modeler for Windows. Uninhibited free-form 3-D modeling tools like those found only in products costing 20 to 50 times more. Model any shape you can imagine.
Accurately model any shape needed to design, prototype, engineer, analyze, and manufacture.
Read and write files for most design, drafting, CAM, engineering, prototyping, analysis, rendering, animation, and illustration software.
Repair, stitch, and heal IGES and other model files .
Direct support for 3-D digitizers.
Easy to learn and use so you can focus on design and visualization without being distracted by the software
Fast enough to run on an ordinary laptop computer.
Affordable. US$795. No maintenance or support fees. Short learning curve.
Rhino is to 3-D models what Photoshop is to images.
Rhino is a great companion to Solid Edge.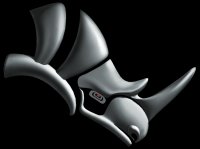 A new 3D design medium for developing and communicating ideas, information, and feelings."
It is absolutely the easiest-to-use 3-D modeling program I have found."
Joe Petrich
Delta Marine
"Rhino is quickly becoming "THE" 3D design tool to supplement IDEAS work while on the PC."
Frank Nuovo
VP, Chief Designer, Nokia Design